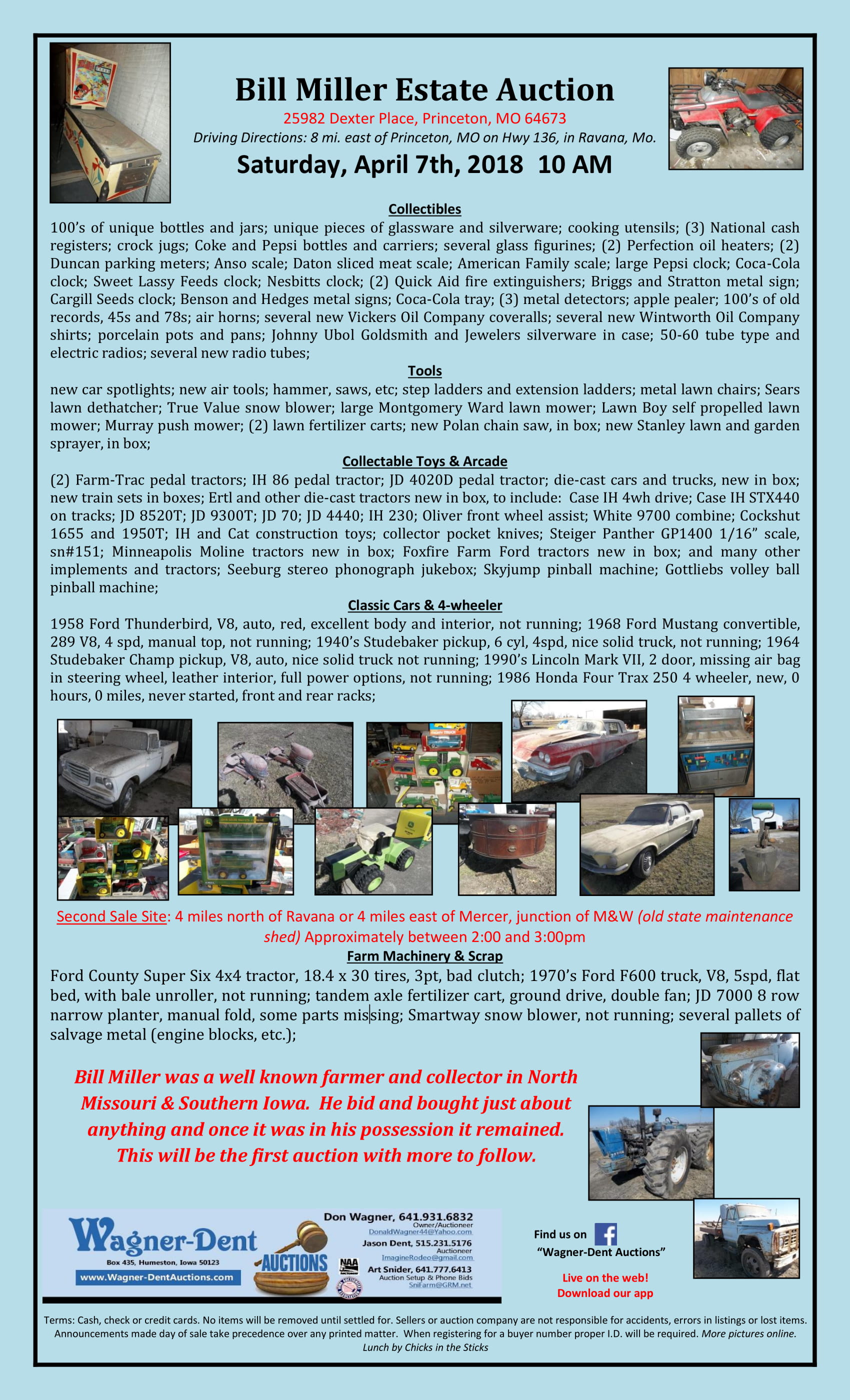 All Lots will be sold live.
Collectibles:
100's of unique bottles and jars; unique pieces of glassware and silverware; cooking utensils; (3) National cash registers; crock jugs; Coke and Pepsi bottles and carriers; several glass figurines; (2) Perfection oil heaters; (2) Duncan parking meters; Anso scale; Daton sliced meat scale; American Family scale; large Pepsi clock; Coca-Cola clock; Sweet Lassy Feeds clock; Nesbitts clock; (2) Quick Aid fire extinguishers; Briggs and Stratton metal sign; Cargill Seeds clock; Benson and Hedges metal signs; Coca-Cola tray; (3) metal detectors; apple pealer; 100's of old records, 45s and 78s; air horns; several new Vickers Oil Company coveralls; several new Wintworth Oil Company shirts; porcelain pots and pans; Johnny Ubol Goldsmith and Jewelers silverware in case; 50-60 tube type and electric radios; several new radio tubes;
Tools:
new car spotlights; new air tools; hammer, saws, etc; step ladders and extension ladders; metal lawn chairs; Sears lawn dethatcher; True Value snow blower; large Montgomery Ward lawn mower; Lawn Boy self propelled lawn mower; Murray push mower; (2) lawn fertilizer carts; new Polan chain saw, in box; new Stanley lawn and garden sprayer, in box;
Collectable Toys & Arcade:
(2) Farm-Trac pedal tractors; IH 86 pedal tractor; JD 4020D pedal tractor; die-cast cars and trucks, new in box; new train sets in boxes; Ertl and other die-cast tractors new in box, to include: Case IH 4wh drive; Case IH STX440 on tracks; JD 8520T; JD 9300T; JD 70; JD 4440; IH 230; Oliver front wheel assist; White 9700 combine; Cockshut 1655 and 1950T; IH and Cat construction toys; collector pocket knives; Steiger Panther GP1400 1/16" scale, sn#151; Minneapolis Moline tractors new in box; Foxfire Farm Ford tractors new in box; and many other implements and tractors; Seeburg stereo phonograph jukebox; Skyjump pinball machine; Gottliebs volley ball pinball machine;
Classic Cars & 4-wheeler:
1958 Ford Thunderbird, V8, auto, red, excellent body and interior, not running; 1968 Ford Mustang convertible, 289 V8, 4 spd, manual top, not running; 1940's Studebaker pickup, 6 cyl, 4spd, nice solid truck, not running; 1964 Studebaker Champ pickup, V8, auto, nice solid truck not running; 1990's Lincoln Mark VII, 2 door, missing air bag in steering wheel, leather interior, full power options, not running; 1986 Honda Four Trax 250 4 wheeler, new, 0 hours, 0 miles, never started, front and rear racks;
Second Sale Site: Approximately between 2:00 and 3:00pm
Farm Machinery & Scrap:
Ford County Super Six 4×4 tractor, 18.4 x 30 tires, 3pt, bad clutch; 1970's Ford F600 truck, V8, 5spd, flat bed, with bale unroller, not running; tandem axle fertilizer cart, ground drive, double fan; JD 7000 8 row narrow planter, manual fold, some parts missing; Smartway snow blower, not running; several pallets of salvage metal (engine blocks, etc.);
Bill Miller was a well known farmer and collector in North Missouri & Southern Iowa. He bid and bought just about anything and once it was in his possession it remained. This will be the first auction with more to follow.
25982 Dexter Place, Princeton, MO 64673
Driving Directions: 8 mi. east of Princeton, MO on Hwy 136, in Ravana, Mo.
Second Sale Site: 4 miles north of Ravana or 4 miles east of Mercer, junction of M&W (old state maintenance shed) Approximately between 2:00 and 3:00pm