Joyce & the Late Don Greenlee Estate Auction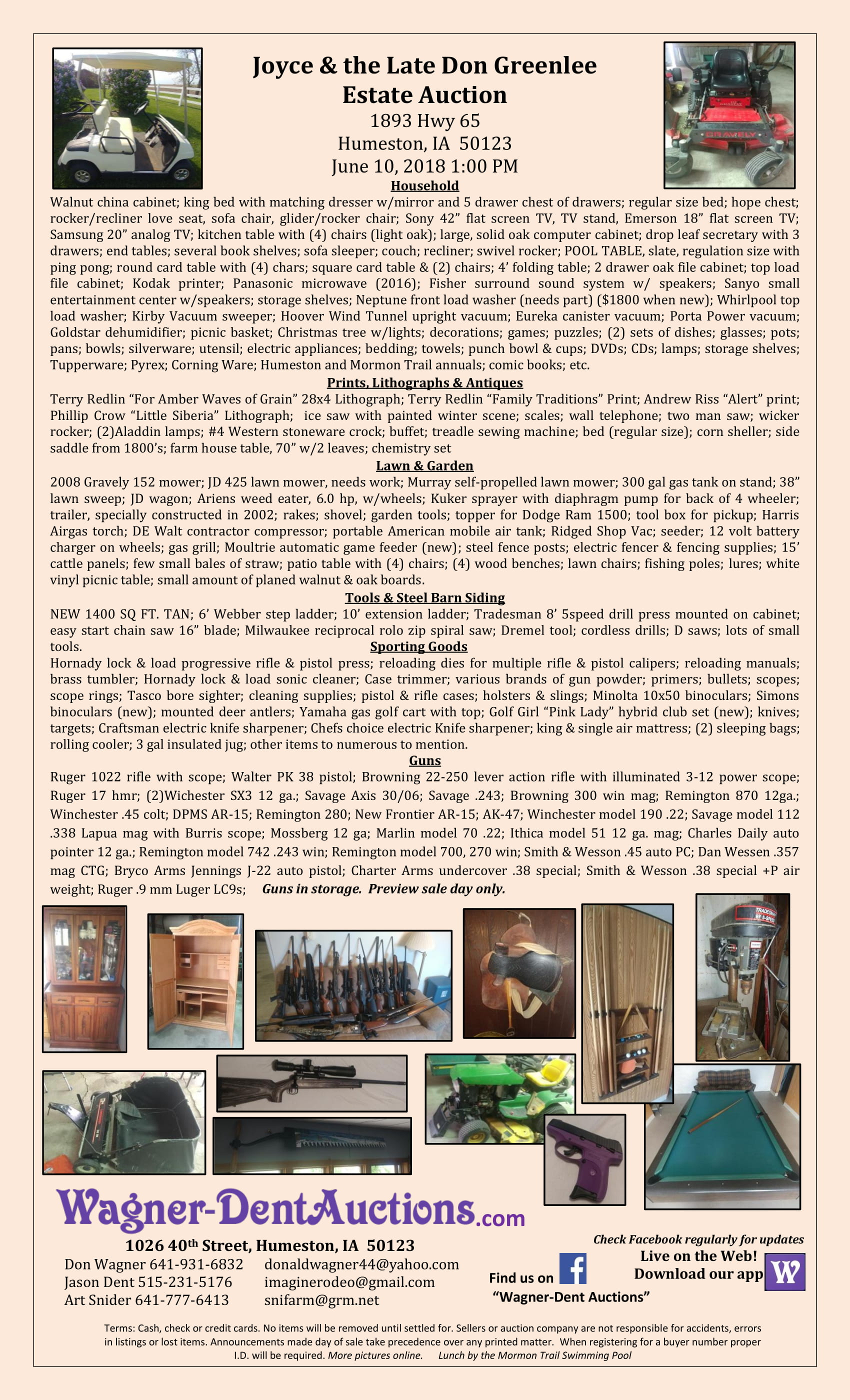 Household
Walnut china cabinet; king bed with matching dresser w/mirror and 5 drawer chest of drawers; regular size bed; hope chest; rocker/recliner love seat, sofa chair, glider/rocker chair; Sony 42" flat screen TV, TV stand, Emerson 18" flat screen TV; Samsung 20" analog TV; kitchen table with (4) chairs (light oak); large, solid oak computer cabinet; drop leaf secretary with 3 drawers; end tables; several book shelves; sofa sleeper; couch; recliner; swivel rocker; POOL TABLE, slate, regulation size with ping pong; round card table with (4) chars; square card table & (2) chairs; 4' folding table; 2 drawer oak file cabinet; top load file cabinet; Kodak printer; Panasonic microwave (2016); Fisher surround sound system w/ speakers; Sanyo small entertainment center w/speakers; storage shelves; Neptune front load washer (needs part) ($1800 when new); Whirlpool top load washer; Kirby Vacuum sweeper; Hoover Wind Tunnel upright vacuum; Eureka canister vacuum; Porta Power vacuum; Goldstar dehumidifier; picnic basket; Christmas tree w/lights; decorations; games; puzzles; (2) sets of dishes; glasses; pots; pans; bowls; silverware; utensil; electric appliances; bedding; towels; punch bowl & cups; DVDs; CDs; lamps; storage shelves; Tupperware; Pyrex; Corning Ware; Humeston and Mormon Trail annuals; comic books; etc.
Prints, Lithographs & Antiques
Terry Redlin "For Amber Waves of Grain" 28×4 Lithograph; Terry Redlin "Family Traditions" Print; Andrew Riss "Alert" print; Phillip Crow "Little Siberia" Lithograph; ice saw with painted winter scene; scales; wall telephone; two man saw; wicker rocker; (2)Aladdin lamps; #4 Western stoneware crock; buffet; treadle sewing machine; bed (regular size); corn sheller; side saddle from 1800's; farm house table, 70" w/2 leaves; chemistry set
Lawn & Garden
2008 Gravely 152 mower; JD 425 lawn mower, needs work; Murray self-propelled lawn mower; 300 gal gas tank on stand; 38" lawn sweep; JD wagon; Ariens weed eater, 6.0 hp, w/wheels; Kuker sprayer with diaphragm pump for back of 4 wheeler; trailer, specially constructed in 2002; rakes; shovel; garden tools; topper for Dodge Ram 1500; tool box for pickup; Harris Airgas torch; DE Walt contractor compressor; portable American mobile air tank; Ridged Shop Vac; seeder; 12 volt battery charger on wheels; gas grill; Moultrie automatic game feeder (new); steel fence posts; electric fencer & fencing supplies; 15' cattle panels; few small bales of straw; patio table with (4) chairs; (4) wood benches; lawn chairs; fishing poles; lures; white vinyl picnic table; small amount of planed walnut & oak boards.
Tools & Steel Barn Siding
NEW 1400 SQ FT. TAN; 6' Webber step ladder; 10' extension ladder; Tradesman 8' 5speed drill press mounted on cabinet; easy start chain saw 16" blade; Milwaukee reciprocal rolo zip spiral saw; Dremel tool; cordless drills; D saws; lots of small tools. Sporting Goods
Hornady lock & load progressive rifle & pistol press; reloading dies for multiple rifle & pistol calipers; reloading manuals; brass tumbler; Hornady lock & load sonic cleaner; Case trimmer; various brands of gun powder; primers; bullets; scopes; scope rings; Tasco bore sighter; cleaning supplies; pistol & rifle cases; holsters & slings; Minolta 10×50 binoculars; Simons binoculars (new); mounted deer antlers; Yamaha gas golf cart with top; Golf Girl "Pink Lady" hybrid club set (new); knives; targets; Craftsman electric knife sharpener; Chefs choice electric Knife sharpener; king & single air mattress; (2) sleeping bags; rolling cooler; 3 gal insulated jug; other items to numerous to mention.
Guns
Ruger 1022 rifle with scope; Walter PK 38 pistol; Browning 22-250 lever action rifle with illuminated 3-12 power scope; Ruger 17 hmr; (2)Wichester SX3 12 ga.; Savage Axis 30/06; Savage .243; Browning 300 win mag; Remington 870 12ga.; Winchester .45 colt; DPMS AR-15; Remington 280; New Frontier AR-15; AK-47; Winchester model 190 .22; Savage model 112 .338 Lapua mag with Burris scope; Mossberg 12 ga; Marlin model 70 .22; Ithica model 51 12 ga. mag; Charles Daily auto pointer 12 ga.; Remington model 742 .243 win; Remington model 700, 270 win; Smith & Wesson .45 auto PC; Dan Wessen .357 mag CTG; Bryco Arms Jennings J-22 auto pistol; Charter Arms undercover .38 special; Smith & Wesson .38 special +P air weight; Ruger .9 mm Luger LC9s; Guns in storage. Preview sale day only.
1893 Hwy 65, Humeston, IA 50123