LeRoy Vanderflught Estate Auction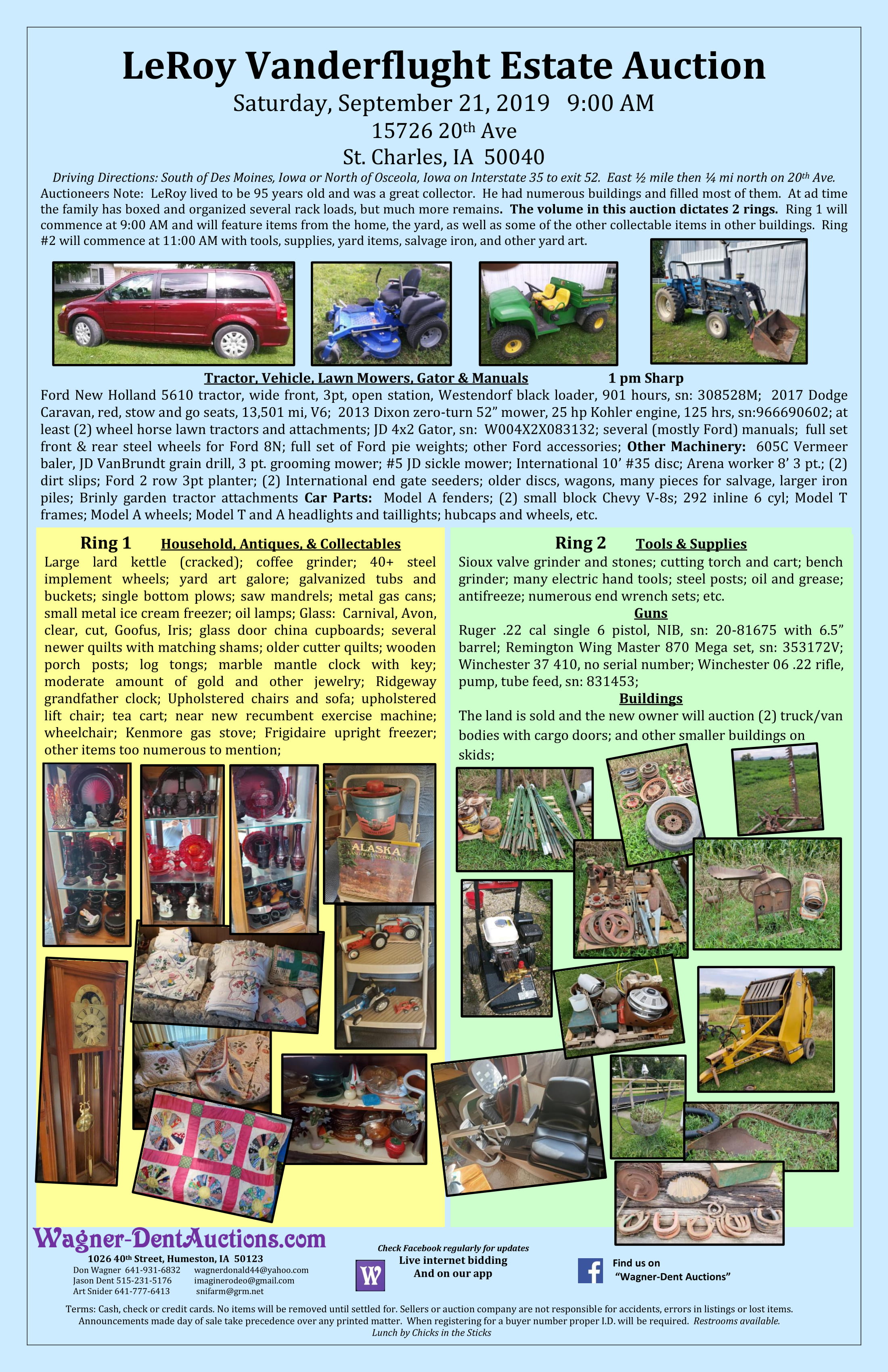 Auctioneers Note: LeRoy lived to be 95 years old and was a great collector. He had numerous buildings and filled most of them. At ad time the family has boxed and organized several rack loads, but much more remains. The volume in this auction dictates 2 rings. Ring 1 will commence at 9:00 AM and will feature items from the home, the yard, as well as some of the other collectable items in other buildings. Ring #2 will commence at 11:00 AM with tools, supplies, yard items, salvage iron, and other yard art.
Tractor, Vehicle, Lawn Mowers, Gator & Manuals 1 pm Sharp
Ford New Holland 5610 tractor, wide front, 3pt, open station, Westendorf black loader, 901 hours, sn: 308528M; 2017 Dodge Caravan, red, stow and go seats, 13,501 mi, V6; 2013 Dixon zero-turn 52" mower, 25 hp Kohler engine, 125 hrs, sn:966690602; at least (2) wheel horse lawn tractors and attachments; JD 4×2 Gator, sn: W004X2X083132; several (mostly Ford) manuals; full set front & rear steel wheels for Ford 8N; full set of Ford pie weights; other Ford accessories; Other Machinery: 605C Vermeer baler, JD VanBrundt grain drill, 3 pt. grooming mower; #5 JD sickle mower; International 10' #35 disc; Arena worker 8' 3 pt.; (2) dirt slips; Ford 2 row 3pt planter; (2) International end gate seeders; older discs, wagons, many pieces for salvage, larger iron piles; Brinly garden tractor attachments Car Parts: Model A fenders; (2) small block Chevy V-8s; 292 inline 6 cyl; Model T frames; Model A wheels; Model T and A headlights and taillights; hubcaps and wheels, etc.
Ring 1 Household, Antiques, & Collectables
Large lard kettle (cracked); coffee grinder; 40+ steel
implement wheels; yard art galore; galvanized tubs and
buckets; single bottom plows; saw mandrels; metal gas cans;
small metal ice cream freezer; oil lamps; Glass: Carnival, Avon,
clear, cut, Goofus, Iris; glass door china cupboards; several
newer quilts with matching shams; older cutter quilts; wooden
porch posts; log tongs; marble mantle clock with key; moderate amount of gold and other jewelry; Ridgeway grandfather clock; Upholstered chairs and sofa; upholstered lift chair; tea cart; near new recumbent exercise machine; wheelchair; Kenmore gas stove; Frigidaire upright freezer; other items too numerous to mention;
Ring 2 Tools & Supplies
Sioux valve grinder and stones; cutting torch and cart; bench grinder; many electric hand tools; steel posts; oil and grease; antifreeze; numerous end wrench sets; etc.
Guns
Ruger .22 cal single 6 pistol, NIB, sn: 20-81675 with 6.5" barrel; Remington Wing Master 870 Mega set, sn: 353172V; Winchester 37 410, no serial number; Winchester 06 .22 rifle, pump, tube feed, sn: 831453;
Buildings
The land is sold and the new owner will auction (2) truck/van bodies with cargo doors; and other smaller buildings on skids;
Driving Directions: South of Des Moines, Iowa or North of Osceola, Iowa on Interstate 35 to exit 52. East 1⁄2 mile then 1⁄4 mi north on 20th Ave.