Thomas J. George (Tom) Estate Auction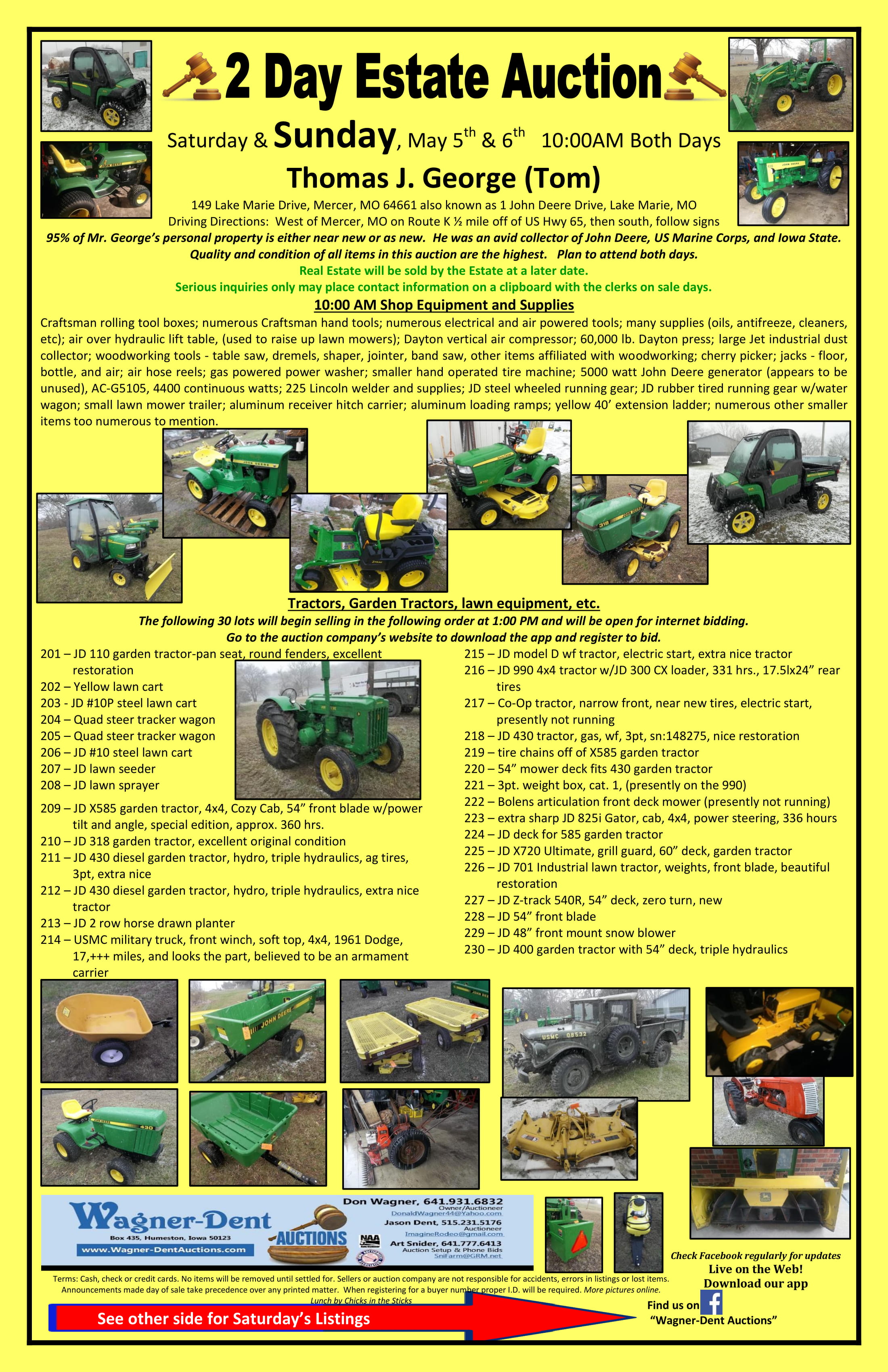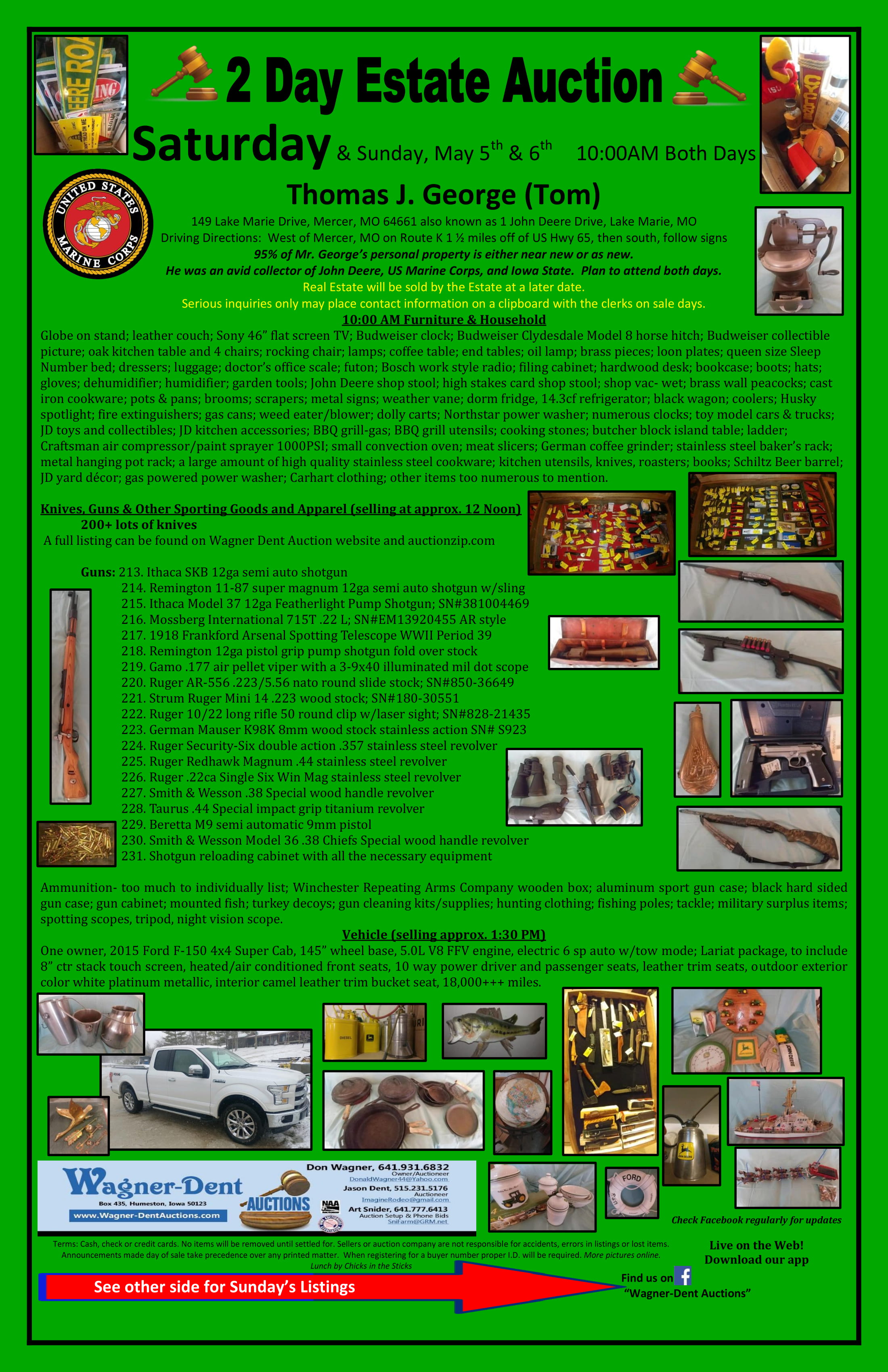 Click Read More button below to see both days sale bills, listing of specific items including guns, knives, farm equipment, household items, and pictures.
Guns and Knives at Estate Auction
Click on Guns and Knives link to view details.
Continue scrolling for listing of farm equipment, household, and shop items, as well as pictures.
Sunday, May 6th, 2018
10:00 AM Shop Equipment and Supplies
Craftsman rolling tool boxes; numerous Craftsman hand tools; numerous electrical and air powered tools; many supplies (oils, antifreeze, cleaners, etc); air over hydraulic lift table, (used to raise up lawn mowers); Dayton vertical air compressor; 60,000 lb. Dayton press; large Jet industrial dust collector; woodworking tools – table saw, dremels, shaper, jointer, band saw, other items affiliated with woodworking; cherry picker; jacks – floor, bottle, and air; air hose reels; gas powered power washer; smaller hand operated tire machine; 5000 watt John Deere generator (appears to be unused), AC-G5105, 4400 continuous watts; 225 Lincoln welder and supplies; JD steel wheeled running gear; JD rubber tired running gear w/water wagon; small lawn mower trailer; aluminum receiver hitch carrier; aluminum loading ramps; yellow 40' extension ladder; numerous other smaller
items too numerous to mention.
Tractors, Garden Tractors, lawn equipment, etc.
The following 30 lots will begin selling in the following order at 1:00 PM and will be open for internet bidding.
201 – JD 110 garden tractor-pan seat, round fenders, excellent restoration
202 – Yellow lawn cart
203 – JD #10P steel lawn cart 204 – Quad steer tracker wagon 205 – Quad steer tracker wagon 206 – JD #10 steel lawn cart 207 – JD lawn seeder
208 – JD lawn sprayer
209 – JD X585 garden tractor, 4×4, Cozy Cab, 54" front blade w/power tilt and angle, special edition, approx. 360 hrs.
210 – JD 318 garden tractor, excellent original condition
211 – JD 430 diesel garden tractor, hydro, triple hydraulics, ag tires,
3pt, extra nice
212 – JD 430 diesel garden tractor, hydro, triple hydraulics, extra nice
tractor
213 – JD 2 row horse drawn planter
214 – USMC military truck, front winch, soft top, 4×4, 1961 Dodge,
17,+++ miles, and looks the part, believed to be an armament carrier
215 – JD model D wf tractor, electric start, extra nice tractor
216 – JD 990 4×4 tractor w/JD 300 CX loader, 331 hrs., 17.5lx24" rear
tires
217 – Co-Op tractor, narrow front, near new tires, electric start,
presently not running
218 – JD 430 tractor, gas, wf, 3pt, sn:148275, nice restoration
219 – tire chains off of X585 garden tractor
220 – 54" mower deck fits 430 garden tractor
221 – 3pt. weight box, cat. 1, (presently on the 990)
222 – Bolens articulation front deck mower (presently not running) 223 – extra sharp JD 825i Gator, cab, 4×4, power steering, 336 hours 224 – JD deck for 585 garden tractor
225 – JD X720 Ultimate, grill guard, 60" deck, garden tractor
226 – JD 701 Industrial lawn tractor, weights, front blade, beautiful
restoration
227 – JD Z-track 540R, 54" deck, zero turn, new
228 – JD 54" front blade
229 – JD 48" front mount snow blower
230 – JD 400 garden tractor with 54" deck, triple hydraulics
Saturday, May 5th, 2018:
10:00 AM Furniture & Household
Globe on stand; leather couch; Sony 46" flat screen TV; Budweiser clock; Budweiser Clydesdale Model 8 horse hitch; Budweiser collectible picture; oak kitchen table and 4 chairs; rocking chair; lamps; coffee table; end tables; oil lamp; brass pieces; loon plates; queen size Sleep Number bed; dressers; luggage; doctor's office scale; futon; Bosch work style radio; filing cabinet; hardwood desk; bookcase; boots; hats; gloves; dehumidifier; humidifier; garden tools; John Deere shop stool; high stakes card shop stool; shop vac- wet; brass wall peacocks; cast iron cookware; pots & pans; brooms; scrapers; metal signs; weather vane; dorm fridge, 14.3cf refrigerator; black wagon; coolers; Husky spotlight; fire extinguishers; gas cans; weed eater/blower; dolly carts; Northstar power washer; numerous clocks; toy model cars & trucks; JD toys and collectibles; JD kitchen accessories; BBQ grill-gas; BBQ grill utensils; cooking stones; butcher block island table; ladder; Craftsman air compressor/paint sprayer 1000PSI; small convection oven; meat slicers; German coffee grinder; stainless steel baker's rack; metal hanging pot rack; a large amount of high quality stainless steel cookware; kitchen utensils, knives, roasters; books; Schiltz Beer barrel; JD yard décor; gas powered power washer; Carhart clothing; other items too numerous to mention.
Knives, Guns & Other Sporting Goods and Apparel (selling at approx. 12 Noon) 200+ lots of knives
A full listing can be found on Wagner Dent Auction website and auctionzip.com
Guns: 213. Ithaca SKB 12ga semi auto shotgun
214. Remington 11-87 super magnum 12ga semi auto shotgun w/sling 215. Ithaca Model 37 12ga Featherlight Pump Shotgun; SN#381004469 216. Mossberg International 715T .22 L; SN#EM13920455 AR style 217. 1918 Frankford Arsenal Spotting Telescope WWII Period 39
218. Remington 12ga pistol grip pump shotgun fold over stock
219. Gamo .177 air pellet viper with a 3-9×40 illuminated mil dot scope 220. Ruger AR-556 .223/5.56 nato round slide stock; SN#850-36649 221. Strum Ruger Mini 14 .223 wood stock; SN#180-30551
222. Ruger 10/22 long rifle 50 round clip w/laser sight; SN#828-21435 223. German Mauser K98K 8mm wood stock stainless action SN# S923 224. Ruger Security-Six double action .357 stainless steel revolver
225. Ruger Redhawk Magnum .44 stainless steel revolver
226. Ruger .22ca Single Six Win Mag stainless steel revolver
227. Smith & Wesson .38 Special wood handle revolver
228. Taurus .44 Special impact grip titanium revolver
229. Beretta M9 semi automatic 9mm pistol
230. Smith & Wesson Model 36 .38 Chiefs Special wood handle revolver 231. Shotgun reloading cabinet with all the necessary equipment
Ammunition- too much to individually list; Winchester Repeating Arms Company wooden box; aluminum sport gun case; black hard sided gun case; gun cabinet; mounted fish; turkey decoys; gun cleaning kits/supplies; hunting clothing; fishing poles; tackle; military surplus items;
spotting scopes, tripod, night vision scope.
Vehicle (selling approx. 1:30 PM)
One owner, 2015 Ford F-150 4×4 Super Cab, 145" wheel base, 5.0L V8 FFV engine, electric 6 sp auto w/tow mode; Lariat package, to include 8" ctr stack touch screen, heated/air conditioned front seats, 10 way power driver and passenger seats, leather trim seats, outdoor exterior color white platinum metallic, interior camel leather trim bucket seat, 18,000+++ miles.
Driving Directions: West of Mercer, MO on Route K, 1⁄2 mile off of US Hwy 65, then south, follow signs